On burnout in IT phone support reaching frightening levels and how to curb it.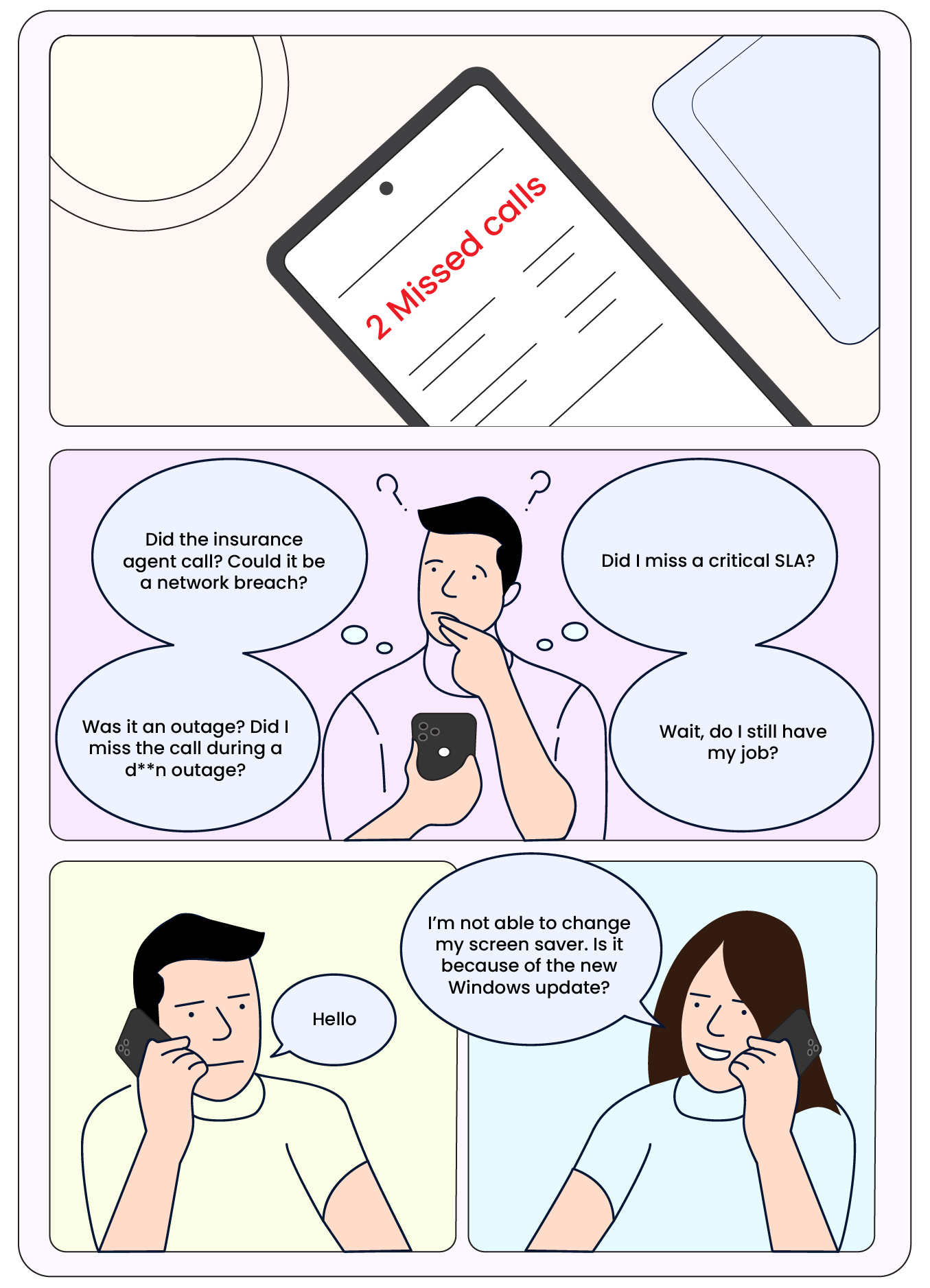 This is not a far-fetched scenario if you are an MSP. Everything is an emergency. Everything is an escalation-level issue. And each phone call is a time bomb waiting to explode. The burnout is very real.
How do you make sure you beat burnout before you are pushed to the verge of quitting, poor performance—or for better or worse—fly off on an impulsive two-month vacay to Miami?
Standardize support
This is probably a no-brainer, but a proper onboarding process should address most of your ground-level support woes. Onboarding includes initial knowledge download, scheduled set up sessions, and dedicating a tech until your clients know how to move around the product. This will eliminate most of the "can't-find-this" and "can't-find-that" calls, saving your technicians some time to worry about more critical issues that warrant their attention. An onboarding flow would eliminate the volume of rudimentary issues you receive. Standardize support so you get lesser calls in the first place, or if not, shorter calls.
Manage workload effectively
John might be the OS update wizard. "Why not let John take this one, he's the best at it" over and over could drown him in excess, repeated, mundane calls. No one else in the team bothered to gain expertise in the area so John, in fact, ends up being solely responsible for anything related to system updates. What happens if tomorrow John ups and leaves? It makes better sense to schedule issues smartly and make sure knowledge isn't held hostage by specific individuals. If you're rolling out a new feature that might require support or you're scheduling planned timeouts, make sure you plan the need for extra support much in advance. This might eliminate surprises for technicians. 
Sort your priorities
A tier-2 tech should be bothered by issues that are either business-critical or escalated above tier-1. Tier-1 techs on the other hand should ideally be involved in system setups, routine issues, and basic incidents. Assign the right priority to issues, because if everything is urgent, nothing is. Treating a basic issue as a high priority may pass the buck to a senior tech who could be doing something better with their time. In the opposite situation, a tier-1 tech who has no idea how to resolve a complex issue may end up being burdened by one when the priority matrix isn't set right. Set realistic expectations for everyone on the team. No biting more than one can chew.
Treat phone support as an alternative, not a replacement
Encourage customers to raise an email ticket or go through the knowledge base before calling tech support. Help them help themselves. Emails and chats are asynchronous, so your technicians still have some buffer before they can get into support mode. Prioritization happens in the background. Phone calls are considered a high priority by default because you don't know what someone is calling for unless you take it up. The call and flog method, where customers report their issues to someone who transfers the issue to the appropriate technician or team, is out of trend now. When customers call, they want answers and they want them now. They don't want to repeat the same thing over and over. Empowering them to find their own answers or try a different channel of support should take much of the burden off of technicians. 
Back your arsenal with effective tools
Make sure your technology requirements are sorted. Whether you're a smaller MSP or a large business, in order to manage different types of clients, you need an effective technology stack to consolidate all your support efforts. This will give your customers an alternative and a more efficient way to reach you other than phone support, so customers are not stuck in the voicemail queue waiting for answers. The right tools help you organize support, automate ticket management, prioritize issues effectively, and help your teams collaborate and work together more effectively. 
Finally, set personal boundaries
Burnout is more than physical and mental exhaustion. Given enough time, it could thrust you into a cycle of negative self-perception and reduced personal accomplishment. When it comes to curbing burnout, personal discipline is as important as work discipline. Pay attention to the signs, set healthy expectations—and of course, boundaries—to benefit your productivity (and sanity!) in the long run.