Kiss goodbye to billing surprises, cluttered quotes, and last-minute pushbacks. Say hello to predictable cash flow.
One thing every MSP dreads, especially in times as trying as these, is unpredictability. In business. In market. In cash flow. Maintaining a predictable cash flow is an enormous challenge to business survival, let alone success. And that is in times of growth. In times of downturn and recession, like we are in right now, predictability of cash flow becomes critical.
Many MSPs go through instances of fluctuating cash flow where they struggle to recover their overhead costs or plan their future budgets. How does one ensure they can have the utmost control over their cash flow and protect their business from unforeseen or, even cyclical, fluctuations? 
Through our conversations with several MSPs like you, we realized the staggering impact of cash flow gaps in managed services businesses. 60% of failed SMBs* cite cash flow as the topmost cause for their failure. We also realized that there is no solution—at least no purpose-built solution—that focuses on solving MSP-specific challenges. So, we took it upon ourselves to build one.
Why quoting, why now?
We wanted to solve this for our customers and for the MSP community. But we needed to rewind a bit - what is the biggest cause of this unpredictability?
All of our research pointed us to these 3 top causes:
Last-minute client pushbacks

Hiccups in the payment process

Inability to keep  track of quotes sent
And we found that almost all of these challenges can be solved with effective quote management in place. Most MSP solutions available in the market offer basic quote creation capability or point their customers towards external quoting tools, read extra spend. By launching quoting in-built in SuperOps.ai, we have not only addressed the above challenges, but we have also eliminated the hidden causes for confusion and inefficiencies in today's quoting process. Here's how.
How does SuperOps.ai's built-in Quote Management help MSPs achieve predictable cash flow?
1. End-to-end invoicing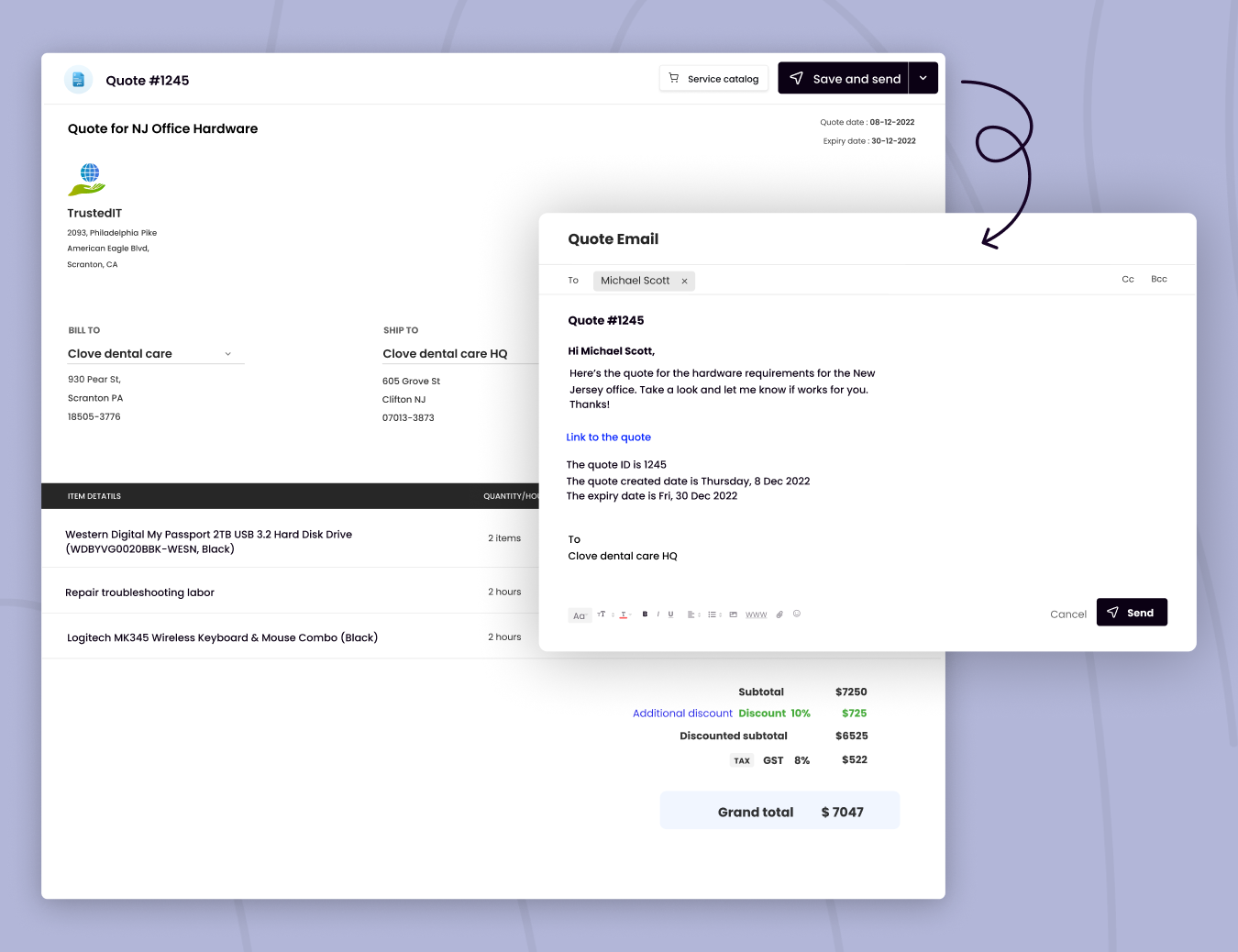 The challenge doesn't end with creating and sending quotes. The real challenge still remains in putting it all together - the client information, the contracts signed with them, the assets they currently own, history of tickets and projects. It's this combined context that generally lives in the PSA solution.

MSPs that rely on third-party quoting solutions are not leveraging the sea of context already available in their PSA solution. 
With SuperOps.ai, the quote's journey—from when a quote is created to when an invoice is paid—is captured and monitored every step of the way. 
When paired with the pre-existing client information, this makes the case for a truly efficient platform that takes care of the entire lifecycle of a quote, translating to you having more control over your cash flow.  
2. Quote versioning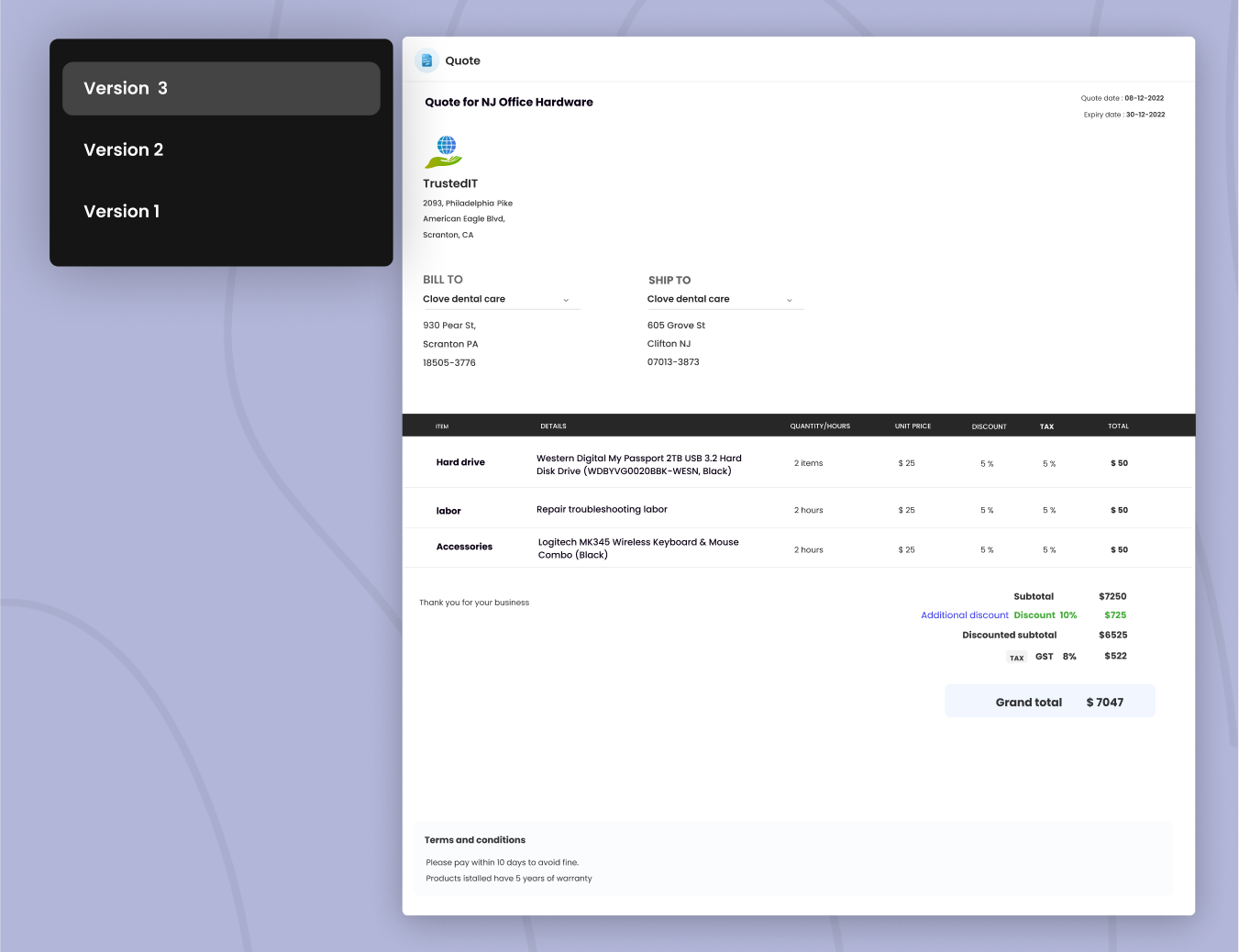 Quoting is never linear. You send out quotes, go through negotiations, encounter pushbacks, and do all you can do to get paid on time. You could be sending out multiple quotes with different numbers, different products, and at different timelines. After a point you have a huge pile of old and unused quotes sitting around, creating confusion around which clients you sent them to or where to find the latest quote, or even to find the final quote.
What if you don't have to create a new quote every time a revision has to be made? What if you can revise the same quote over and over until you and your client shake hands on one? And wouldn't it be nice to have all the older versions of that quote tucked away for your reference later? That's exactly what we've built right within SuperOps.ai. 
With easily revisable quotes, each iteration of the quote is saved, making it easy for MSPs, and clients, to understand the reasons that influenced those numbers.
Now a quote's life cycle either ends in an invoice or remains a draft that never got sent. Either way, you don't have old quotes cluttering your solution, and your mind. 
3. Quote conversations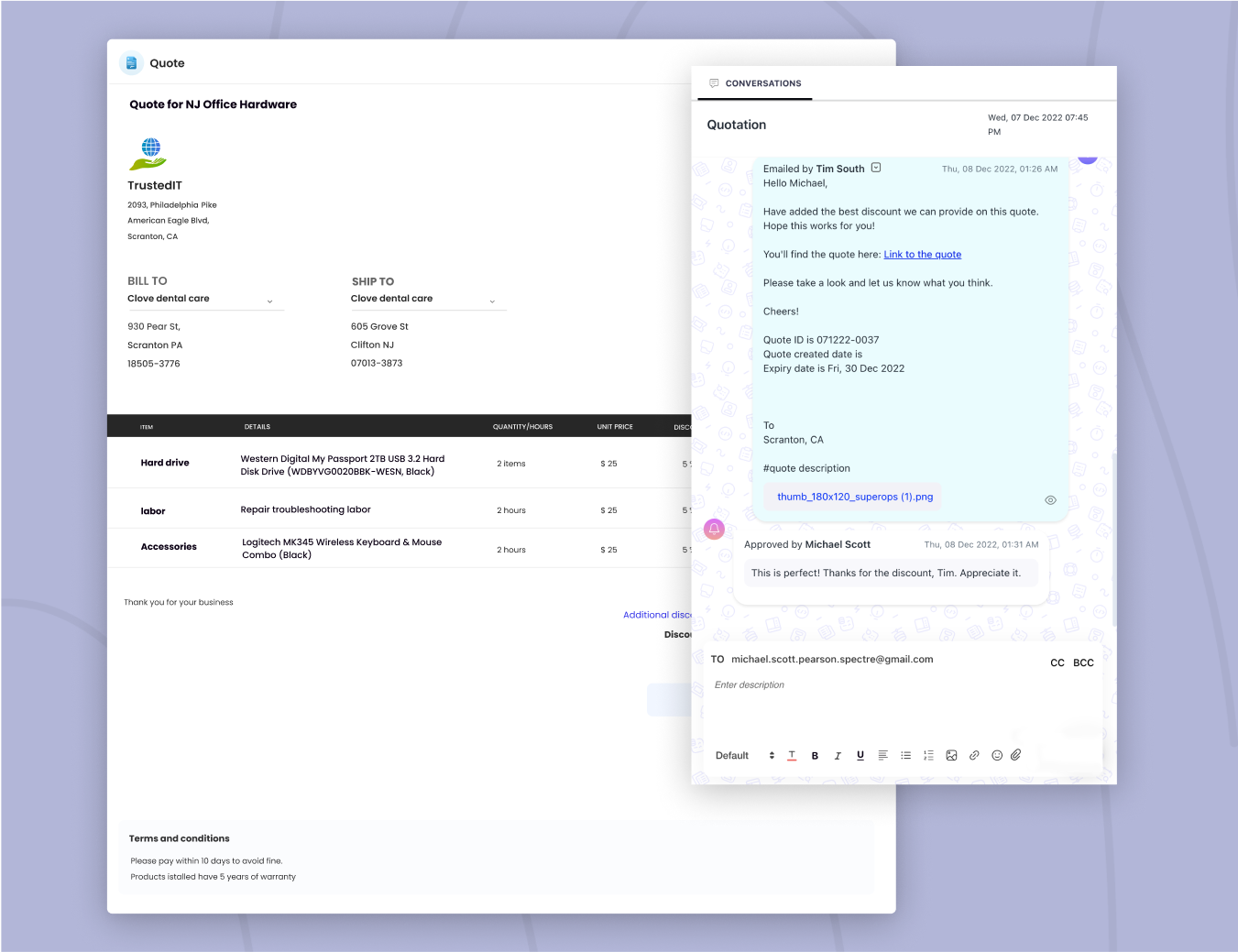 The devil is in the details. Isn't it true for your quotes too? All the quote-related conversations that happen back and forth via emails are siloed from the actual quote you send to your clients. Having to go through multiple email threads to understand what went on with a particular quote may not be the most efficient way of doing it. How can it be better? 
To provide transparency to both the client and yourself, SuperOps.ai has built quote-linked conversations. 
You and your client can view all the conversations that went on regarding a specific quote right by its side. Just like a conversation. With the quote-related conversations baked into each quote, you get the entire context across each revision, making negotiations seamless. With better quoting comes better cash flow.
Quote Management in SuperOps.ai effectively eliminates the inefficiencies in your quoting process, ensuring a predictable cash flow. Also, MSPs can finally have a truly unified solution that's primed to take you to the top. 
Taking you to the top - that's our vision. 

Try Quote Management in SuperOps.ai with a free, fully-functional, contract-free 21-day trial.
*Source: https://www.forwardai.com/knowledge-center/blog/small-business-cash-flow-statistics-the-list-to-end-all-lists/