As Datto starts its walk down the "green mile", its customers get SuperOps.ai free for one year. Let us ease your heartbreak.
Wait a minute, why are we saying goodbye to Datto? They have just been acquired by Kaseya for about $6.2 billion, right? 
That's exactly why we, and the rest-of-the-MSP-world, are bidding goodbye to Datto. Because Kaseya is where products go to fade away into oblivion.
Kaseya - a tale of failed acquisitions
Let's go down the memory lane for a bit, shall we, and take a look at what happened with its last few acquisitions.
Sadly, we do not have to go too far back. Take IT Glue, once a much loved IT Documentation software. Kaseya acquired it in December 2018. It has been downhill for IT Glue since then, with repeated outages.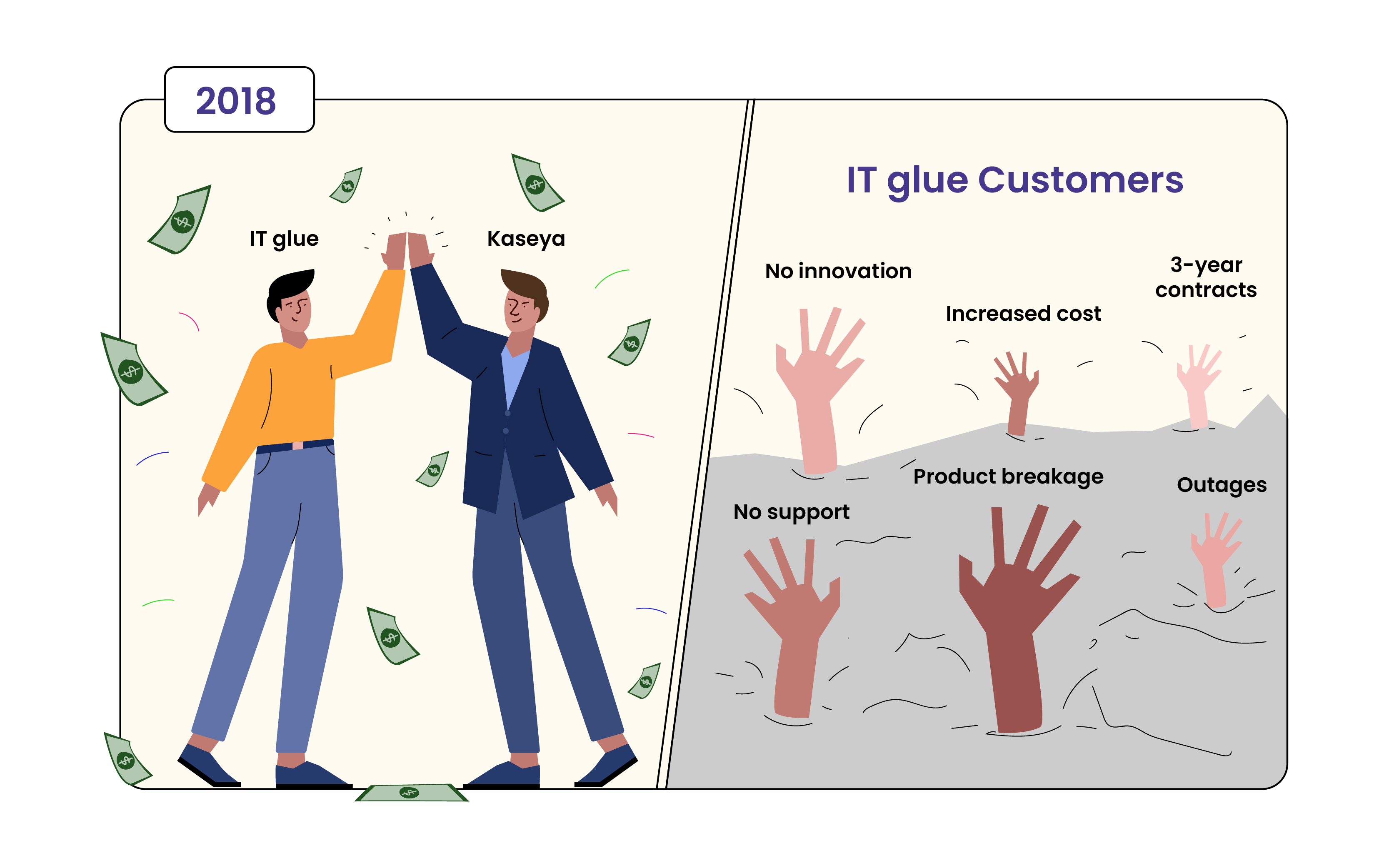 And, has its parent Kaseya apologized for the issues? On the contrary, Kaseya added insult to injury by announcing a $1.93 administrative fee to "partially offset the increased cost of services and infrastructure".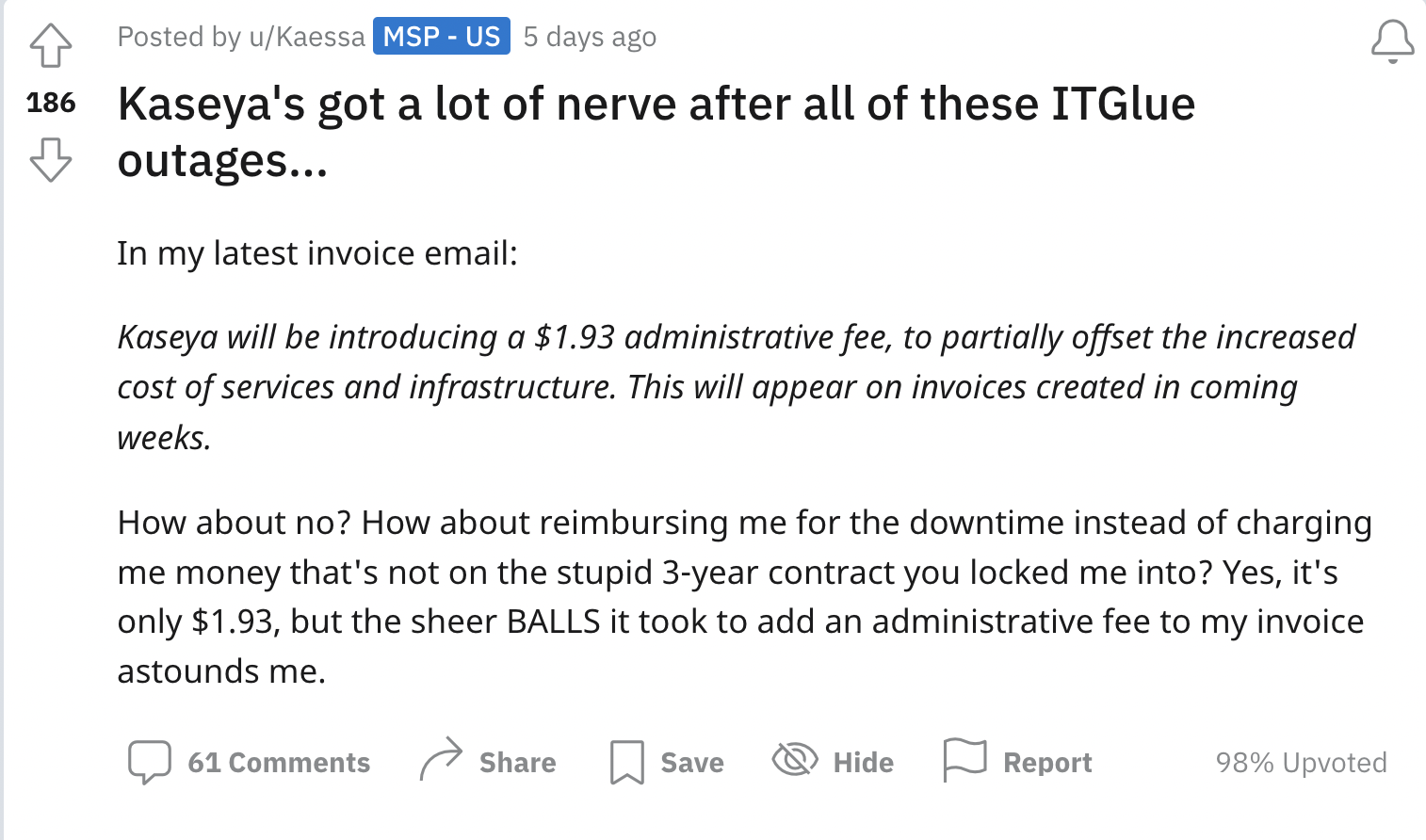 Datto is no IT Glue you say. It will not get consumed by Kaseya's issues you say. Are you sure?
IT Glue was relatively lucky, as it continues to be a separate product. For now. Other products and their customers were unluckier still. Take niche PSA product Vorex. Kaseya absorbed Vorex and made it into Kaseya Business Management Solution (BMS). But the solution is now as clunky, slow, lethargic, and difficult to use as any other Kaseya product.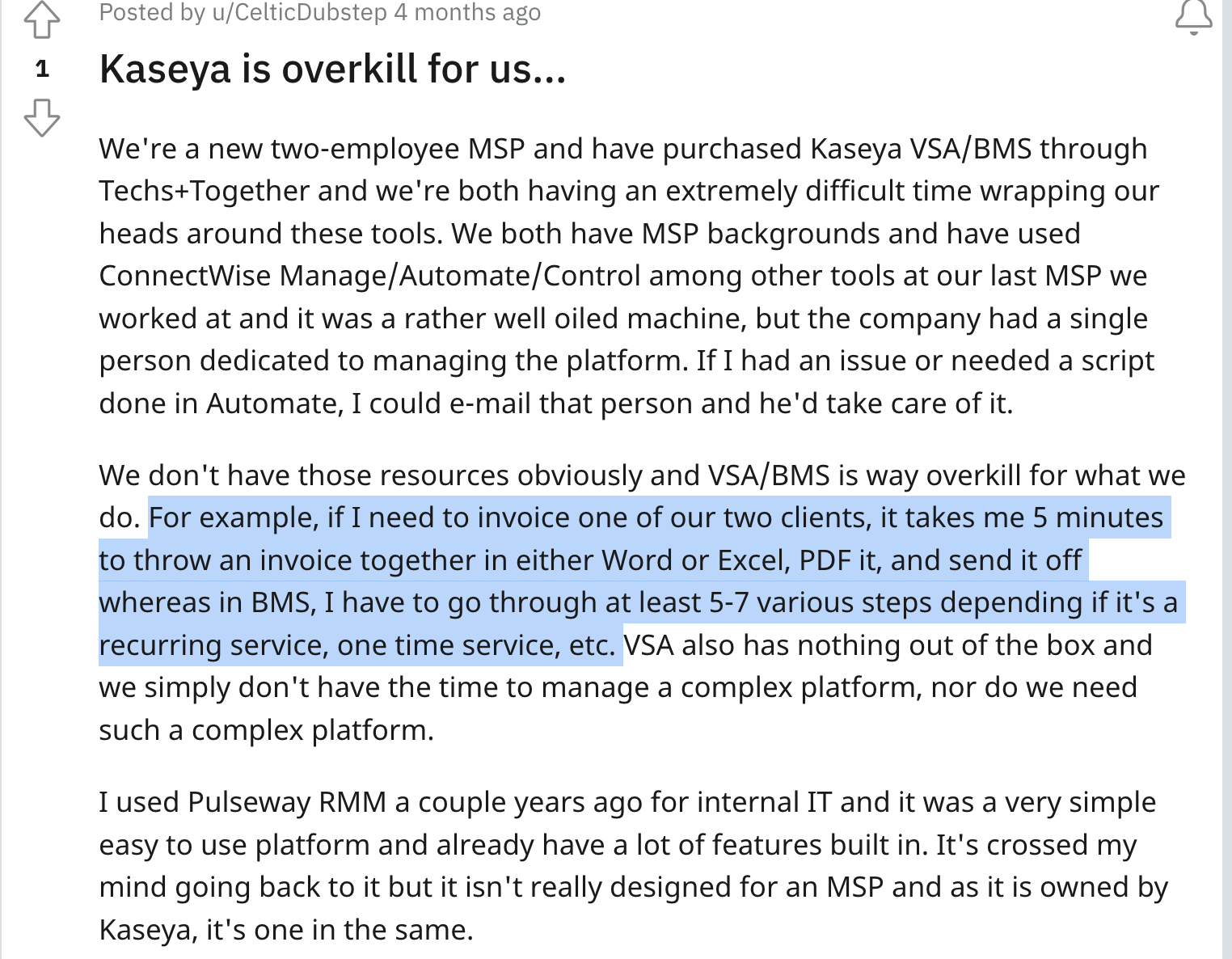 This has been the case with all of Kaseya's previous acquisitions, be it ID Agent, RocketCyber, or GraphUs. Why would it be different this time with Datto?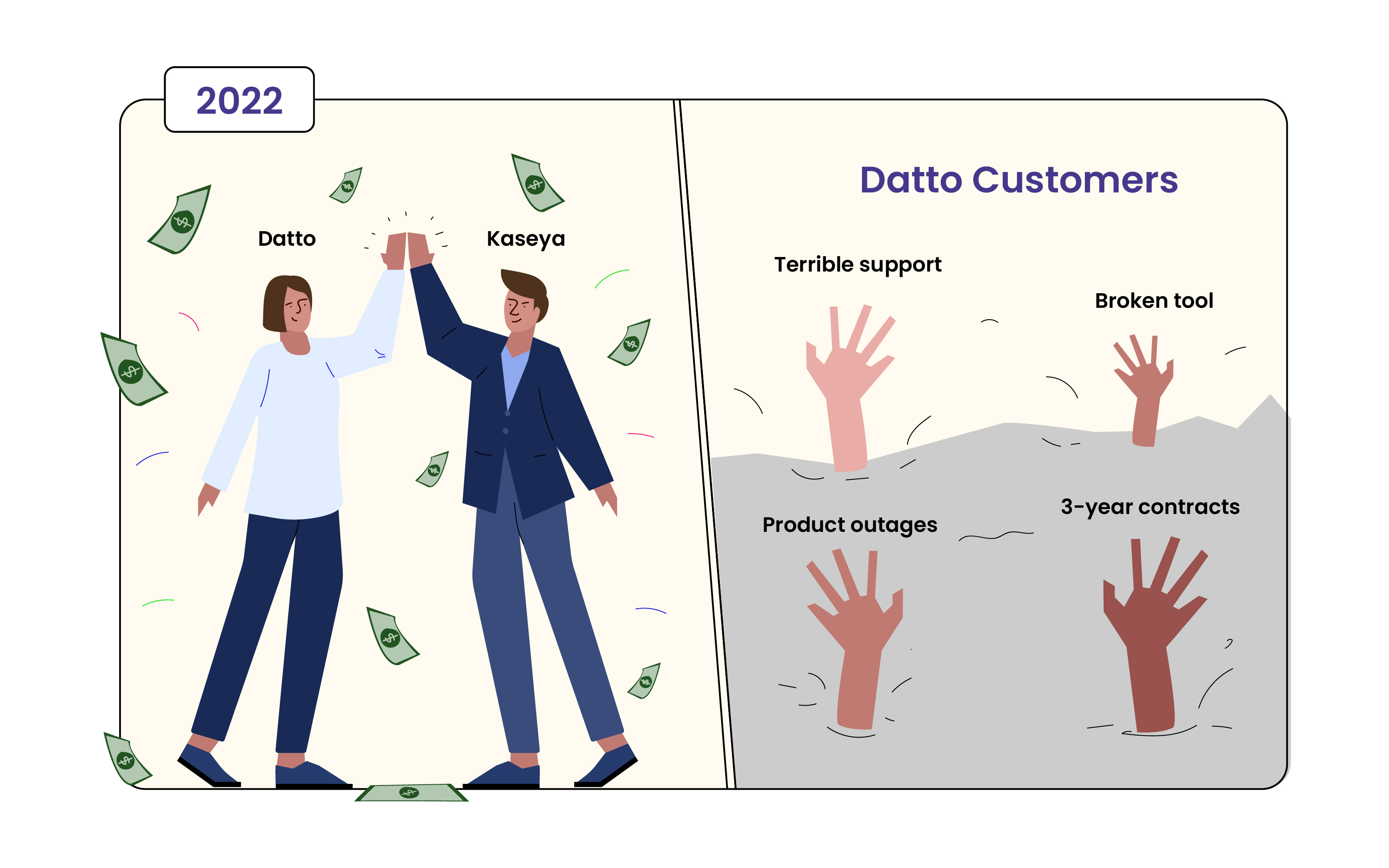 Has Kaseya been upgrading its features dramatically in recent months or years? Has it given stellar and responsive customer service? Is it listening to its customers?
The answer to all these questions is a resounding NO!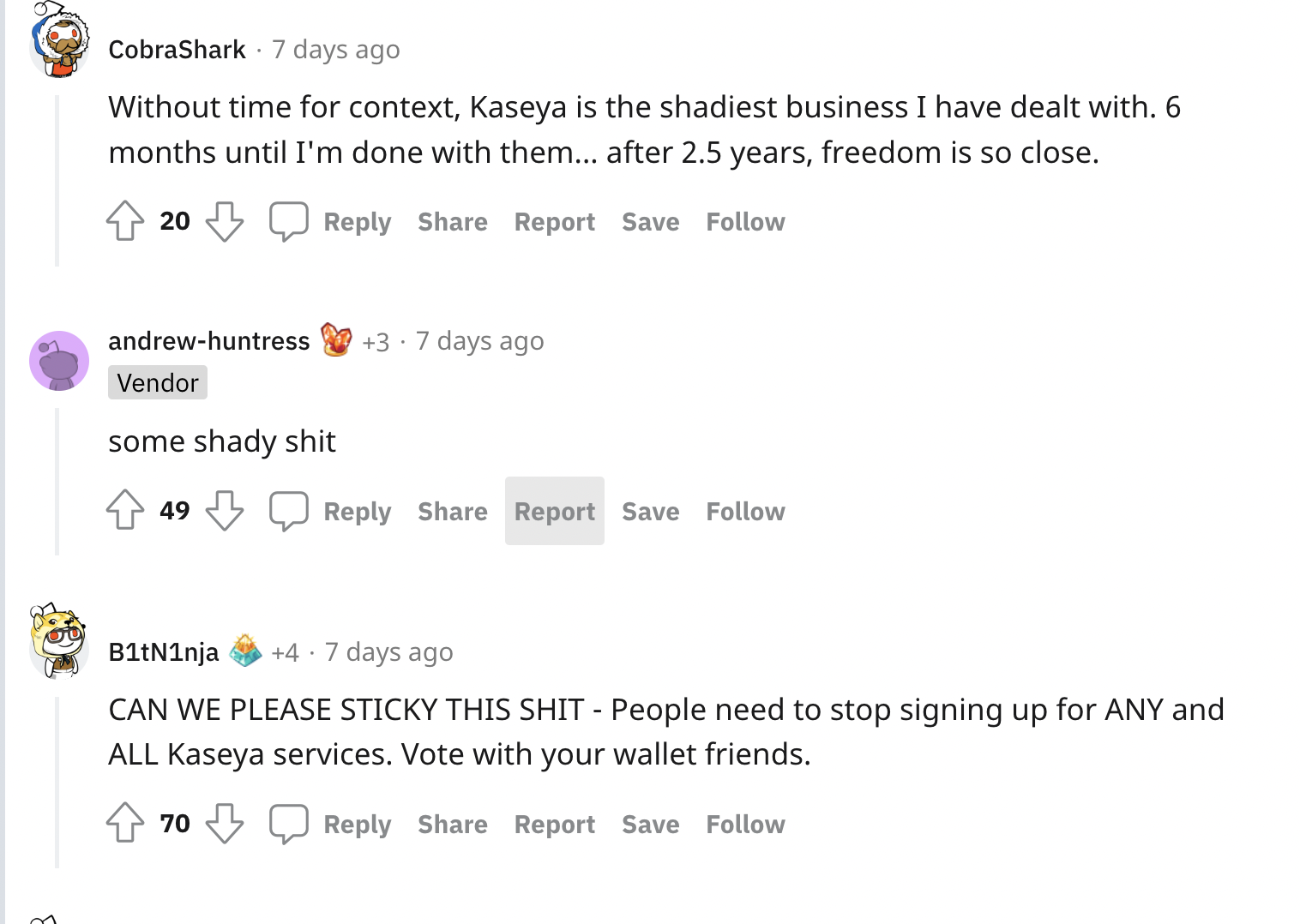 The specter of the Kaseya 3-year contract
It is bad enough to have to deal with the terrible experience of using Kaseya and its orbit of badly-stitched-together products. On top of this is the final nail in the coffin - the dreaded and despised 3-year contract. Why, oh why, would any MSP want to suffer three years of this experience?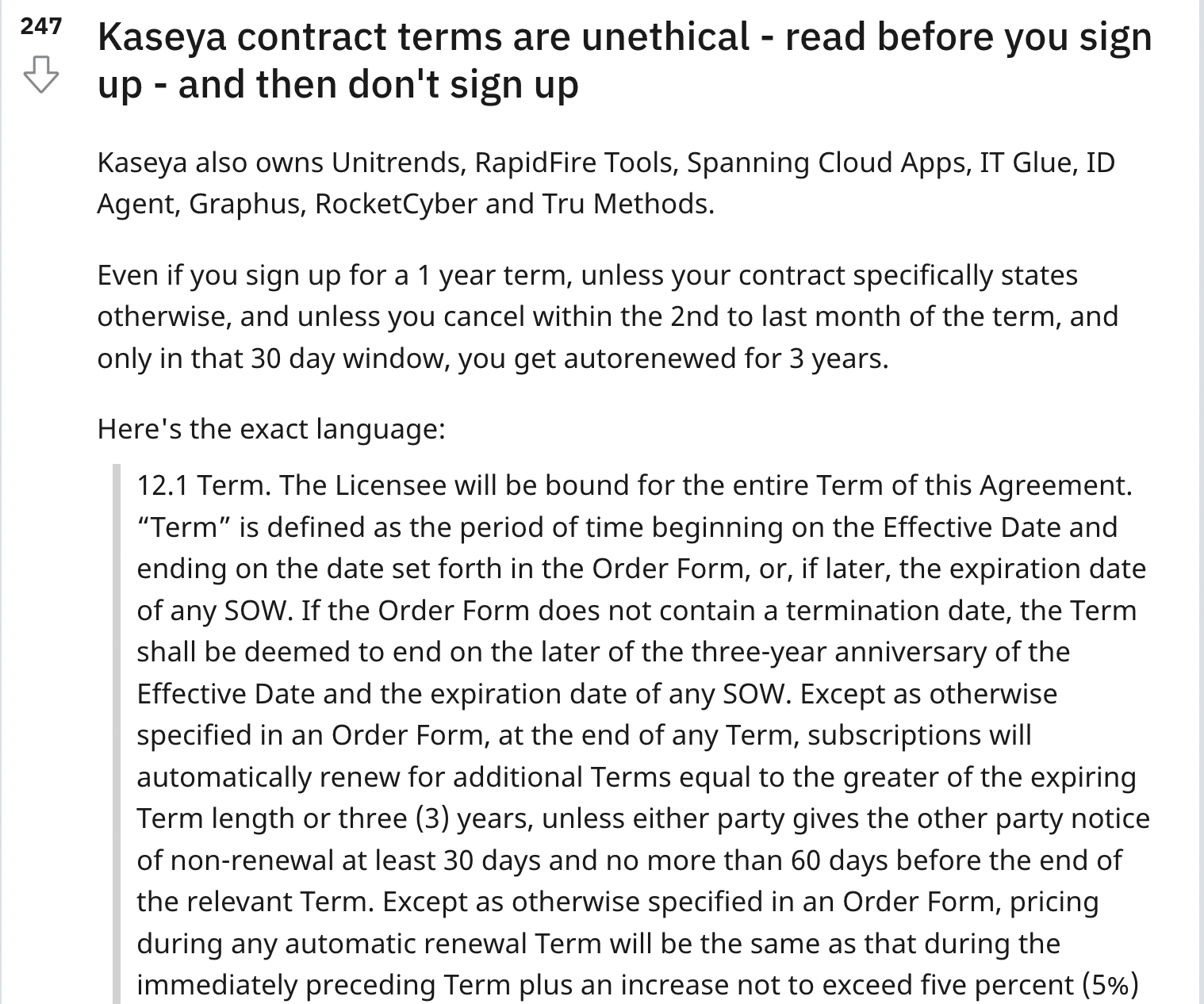 Legacy players take the easy route, MSPs suffer
It is not just Kaseya that has followed this strategy of acquiring products and tools used by MSPs left, right, and center and just cobbled them together in a haphazard manner. Others like SolarWinds and ConnectWise have done the same as well.
SolarWinds acquired MSP Password Management service provider Passportal in 2019, and almost immediately things went south. 

ConnectWise is no better. It acquired Continuum in 2019 and by 2021 they had pulled the plug on the product!
Because, why should these legacy players who have been in the market for years put the effort and time into building products that MSPs actually need? Why invest in R&D when they can just acquire a company, force fit the product into their suite of badly designed and barely working products or worse, just shut them down a few months after buyout, and hoodwink clients? 
MSPs need to wise up. It is time to move to a product that is built specifically for the needs of today's MSPs. SuperOps.ai is built for the cloud, it is a truly unified PSA-RMM platform, and powered with the goodness of AI and Automation. It has everything a modern MSP needs, including IT Documentation and Project Management. SuperOps.ai has worked closely with over 300 MSPs to get the product exactly right.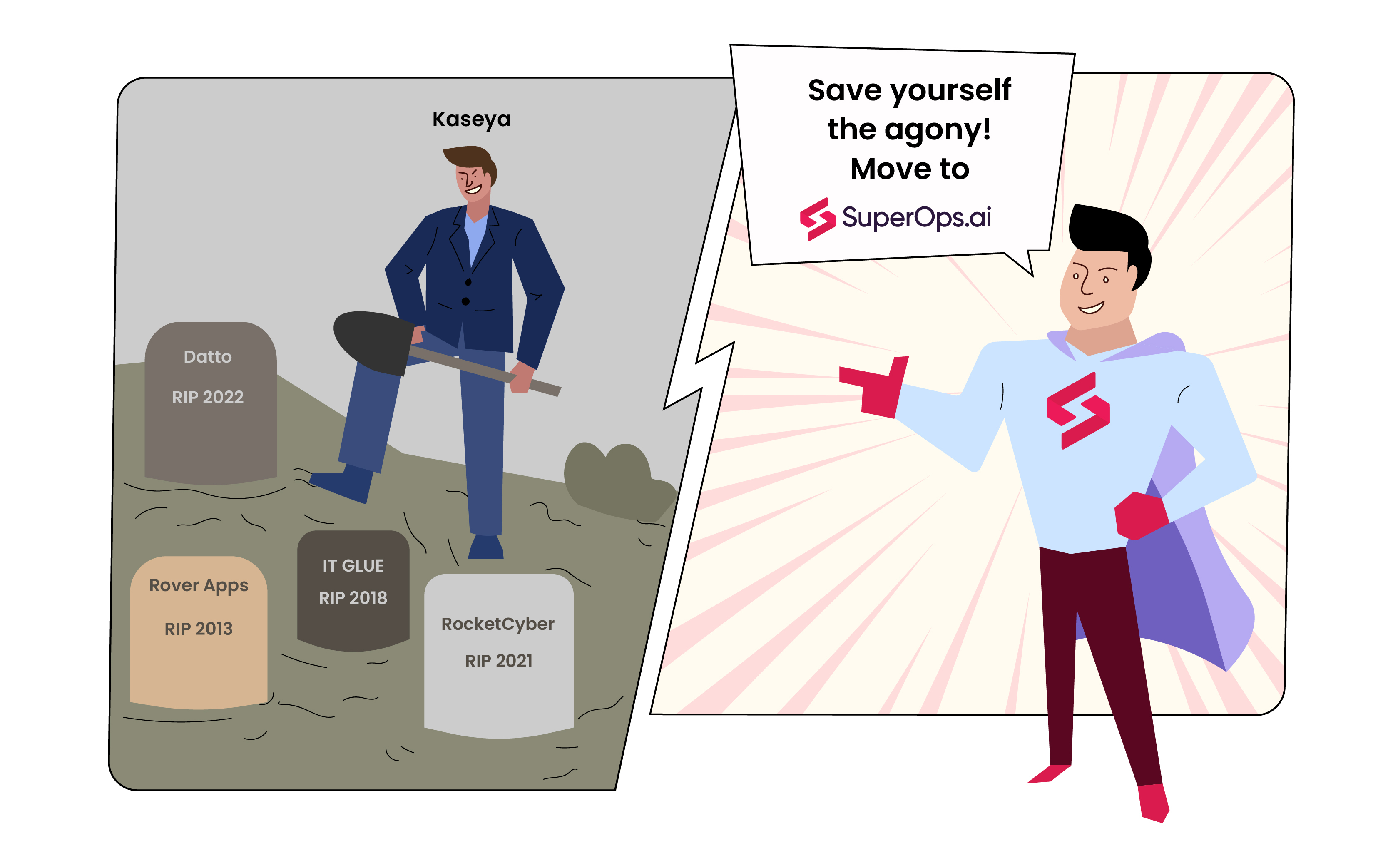 We feel the pain of Datto's loyal customers. Which is why we are offering a first-year-free access to SuperOps.ai to all of Datto's customers. It is valid till the end of May. Hit us up now! 
Switch before it is too late.