About your role at SuperOps.ai
SuperOps.ai is a SaaS startup focused on solving problems for modern IT teams using AI. It helps IT teams to efficiently manage IT infrastructure like networks and systems on the cloud or on-premises, and business-critical applications. Founded by Arvind Parthiban, a serial entrepreneur, and Jayakumar Karumbasalam, a veteran in the IT space. Both Arvind and Jayakumar come with years of experience in leadership positions at Freshworks & Zoho.

As a Senior DevOps Engineer most of your day will be dedicated to research, planning, and coding. You'll be responsible for deploying and managing the entire infrastructure in AWS/GCP. As an early member of the DevOps team, you will have the opportunity to help Superops.ai reach our goals through scaling our infrastructure, ensuring no downtime to the customer. Also, you will be implementing the best cloud security practices. You'll be working directly with our Tech Lead/DevOps Manager and take technical decisions together.
Superops is a great place to work in terms of technology and culture. Ideas to extemporize the existing process or technologies are always welcomed. Cutting-edge technologies give all the engineers to work with great calibration and to stay up-to-date. This makes SuperOps.ai so distinctive.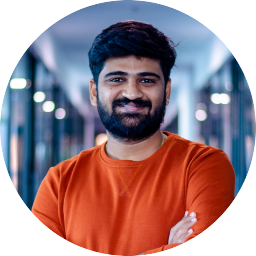 Sriram Raghavan
Lead DevOps Engineer
You'll be responsible for
Orchestration of all services.
Working efficiently in a constantly changing and growing environment.
Implementing CI/CD pipelines and automation.
Implementing best security practices.
Finding the right balance of speed and accuracy when prioritizing and taking responsibility for seeing things through to a high standard.
Positively challenging the way things are done and want to join a business that is focused on constantly improving.
You're someone who
Has 5 - 7 years of experience working as a DevOps Engineer.
Hands-on experience with container orchestration systems such as Kubernetes.
Has expertise in Docker And Kubernetes.
Has expertise in AWS and GCP preferably.
Has experience delivering infrastructure as code(IAC) using Terraform/Cloudformation.
Has experience with logging, monitoring, and alerting systems and tools.
Has a working knowledge of CI/CD tools like Jenkins.